The Centre
The NSW Bar Dispute Resolution Centre is uniquely situated in Selborne Chambers, adjacent to the Federal Court of Australia and the Supreme Court of New South Wales. In January 2008 the rooms on this level were designed and refurbished to provide our clients with comfortable and modern facilities to conduct Mediations, Arbitrations, References and Conferences.
The new rooms offer a friendly environment and provide close access to reception and faxing/photocopying services. All rooms are fully equipped and versatile to provide preferred arrangement and configuration.
In the heart of the City the NSW Bar Dispute Resolution Centre is in close proximity to public car parks and transport, and these rooms also offer easy access from both Lockhart Chambers in Macquarie Street and Selborne Chambers in Phillip Street.
The facilities are extremely flexible and include:
Electronic Arbitration Room
Mediation rooms
Up to 6 smaller conference rooms
Smaller rooms to be used for party rooms, break away rooms, training and offices
Board Room
Facilities
Our ancillary facilities are the most modern available for mediation and arbitration and include:
Telephone conferencing facilities in every room
Direct dial speaker telephones in every room
Facsimile and photocopying services (charges may apply)
TV/DVD
White boards
Data projector and screen
Overhead projector
After hours airconditioning
Self service tea/coffee station is available including chilled water and biscuits available all day. Café menus are avaiable for hearing parties to order more substantial refreshment
Microphones and amplification
The following additional services are available by arrangement, at additional cost with a minimum 24 hours notice and subject to availability
Same day in-house transcript service with real time to allow instant access to transcript (optional)
Video conferencing (ISDN or IP)
Internet access
Hearing Augmentation System for Hearing Impaired
All rooms are sound proofed.
Hiring Rates & Conditions
Hourly rate
Half day
Full day
No. of People
Hearing Room 1
Level 1 Selborne (Inclusive of 2 x party rooms)

$77.00
(min 2 hrs)

$220.00
$440.00
Up to 15

Hearing Room 2
Level 1 Selborne (Inclusive of 2 x party rooms)

$77.00
(min 2 hrs)
$220.00
$440.00
Up to 20

Hearing Room 1 & 2
Level 1 Selborne (Inclusive of 4 x party rooms)

$150.00
(min 2 hrs)
$800.00
Up to 40

Party Rooms 1, 2, 3, 4, 5, 6
Level 1

$75.00
$150.00

Board Room
Level 1 Selborne (Shareholders)
(Non-Shareholders)


$55.00
$77.00

$150.00
$220.00

$250.00
$440.00
Up to 15
---
Internet $25 per connection per day
WE DO NOT SPLIT INVOICES
All figures are inclusive of GST
Prices subject to change
Please request Hearing Room 1 if wheelchair access is required.
---
Hiring Conditions
The NSW Bar Dispute Resolution Centre reserves the right to change your booking to a different room.
The party/entity booking the room is responsible for the room fees and for any additional costs incurred - we do not split invoices.
A deposit of 20% of the total hiring fee is payable 7days from the date of invoice. Room is not secure without payment.
Payment in full of the total hiring fee must be made 14 days before the first day of the booking unless otherwise agreed.
Access to the rooms cannot be granted until payment in full is received.
Internet, facsimile, photocopying and telephone charges are additional costs and will be invoiced weekly or at the end of the booking.
If you would like to leave your belongings in the room for collection the next day, please arrange this with Reception by 4.30pm on the final day of the booking by dialing 1. If these arrangements are not made in advance an additional fee of $110 (ex GST) will be payable to the NSW Bar Dispute Resolution Centre prior to the articles being released.
24 hours notice MUST be given if you require the room to be reconfigured.
A 5% discount applies when mediator/arbitrator is accredited by the NSW Bar Association. This must be requested at the time of booking.
The following cancellation fees will apply
More than 28 days = NIL
10 – 28 days = 20% of the total booking fee
Less than 10 days = 100% of the booking fee
Booking Enquiries
Please fill out the booking enquiry form and we will get back to you as soon as possible.
Transport & Parking
The Hearing Rooms are easily accessible from both St. James & Martin Place Station. Sydney Hospital Carpark, Kings Parking and Domain Carpark are within a 5 minute walk.
The Hearing Rooms are close by to cafés, restaurants and accommodation.
Virtual Tour & Floor Layout
Virtual Tour
Floor Layout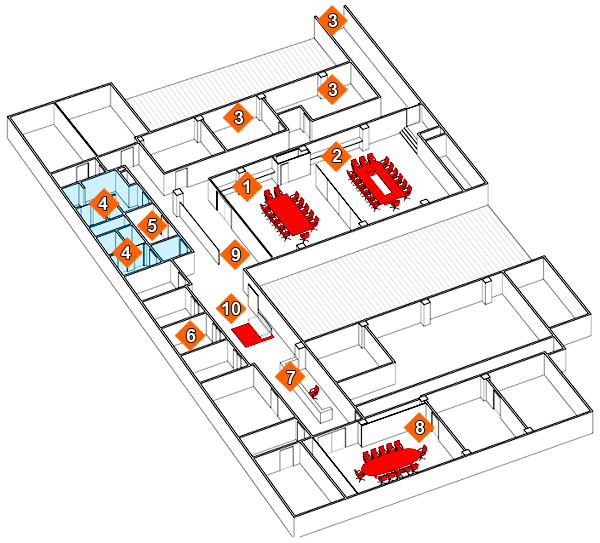 Hearing room 1
Hearing room 2
Party rooms
Bathrooms
Kitchen
Elevators
Reception
Boardroom
Wheelchair access
Waiting room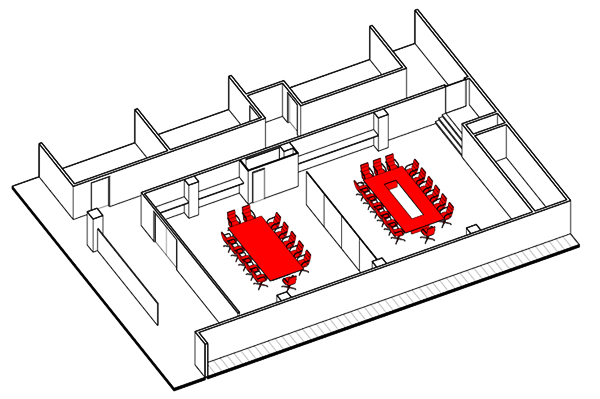 Hearing rooms 1 & 2 divided by sound proof wall for smaller mediations. Hearing room 1 will accommodate up to 15 people. Hearing room 2 will accommodate up to 20 people.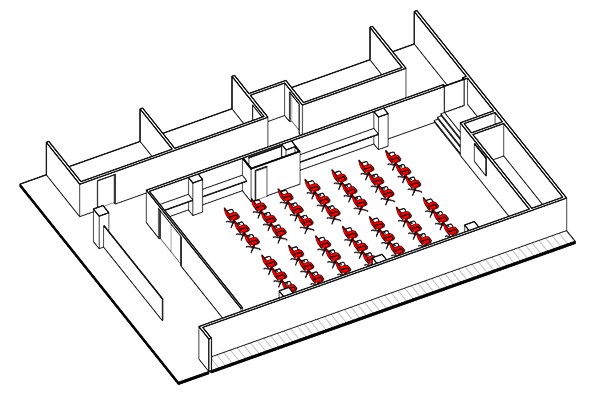 Hearing rooms 1 & 2 theater style. Theatre style can accommodate up to 60 people seated or 150 standing.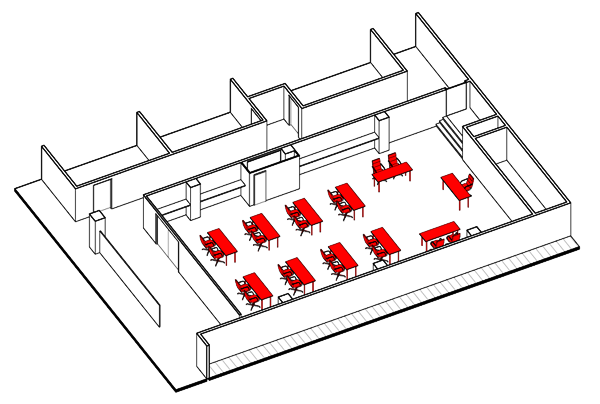 Hearing rooms 1 & 2 arbitration style. Arbitration style will accommodate up to 25 people.
Launch of the Resolution Centre
To be opened by the federal attorney general The Hon. Robert McClelland MP on 10 December 2008
The NSW Bar Dispute Resolution Centre will be opened by the Federal Attorney-General The Hon. Robert McClelland MP on 10 December 2008. Located at level 1, Selborne Chambers, 174 Phillip St, Sydney, it is the most convenient dispute resolution centre for barristers, solicitors and parties in the CBD. The Centre is an important development in promoting ADR and positioning barristers in the ADR sphere.
Formerly the National Dispute Centre, the Centre has been recently refurbished, is specially designed and has all necessary facilities for mediations, arbitrations, expert determinations, conciliations and other forms of dispute resolution as well as round table conferences.
A hearing room and two party rooms, all with telephone conferencing and direct dial speaker phones, cost $440.00 per day. Other rates apply for half days or if the two hearing rooms combined into a larger one. The facilities are extremely flexible and can accommodate both small and large hearings up to a maximum of 40 people. Theatre style bookings are also accommodated with up to 60 people seated. TV/DVD, white board, data projection, after hours air-conditioning and other facilities are available. Facsimile and photocopying facilities are offered at additional cost.
A discount of 5 per cent on hiring fees is available for mediations where the mediator is a member of the NSW Bar Association and accredited under the National Standards For a list of such barristers, see the NSW Bar Association's website link: http://www.nswbar.asn.au/briefing-barristers/dispute-resolution
Chilled water, tea, coffee and biscuits are available at all times and more substantial refreshments can be easily arranged.
The Centre is operated by Counsel's Chambers Ltd for the NSW Bar. Counsel are encouraged to nominate and use the Centre and to draw its availability for use to the attention of instructing solicitors and others involved in alternative dispute resolution.
Bookings are made by contacting Margaret James on 1800 066 239 or by email at bookings@nswbardisputeresolution.com.au Web page: www.nswbardisputeresolution.com.au
NSW Bar Resolution Centre
Level 1, Selborne Chambers,
174 Phillip Street,
Sydney NSW 2000
DX 973 Sydney
T
1800 066 239
F
+61 2 9221 4746
E
bookings@nswbardisputeresolution.com.au